"Only that which is always with you can be said to be your self and if you look closely and simply at experience, only awareness is always 'with you'."
― Rupert Spira, Presence: The Art of Peace and Happiness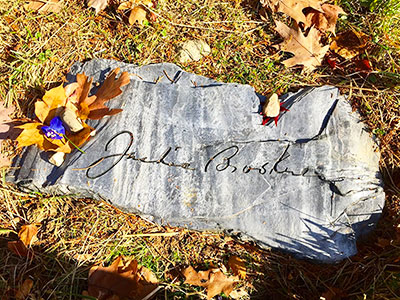 On May 15, 2015 Jackie Brookner passed away after a year and a half battle with cancer.
Her last site-specific installation was her own body. Wrapped only in a cotton shroud and placed on a rustic wooden plank she was lowered directly into the earth she loved so much. She lays to rest in a natural burial field in Sleepy Hollow Cemetery in New York.
For more information about natural burial please visit Sleepy Hollow Cemetery's website, click here.
For Jackie's obituary, click here.
Read Remembering the Life and Work of Jackie Brookner by: Kira Gould by clicking here.
Please visit her first retrospective at Wave Hill.